2015-12-08

Container ship Hanjin Aqua aground and damaged in Sunda Strait

The container ship Hanjin Aqua hardly stuck in shallows off Sangiang island, Indonesia in Sunda Strait. The ship was en route from Adelaide to Jakarta, carrying 2,303 TEU on board, including hazardous cargo class A. During the passage of Sunda Strait, the ship grounded into a rocky shallow and hardly stuck. It was estimated that container carrier Hanjin Aqua got breach below the water line and one of the ballast compartments flooded, causing slight list to starboard. The ship requested assistance from the local authorities and coast guard, which dispatched two patrol boats at the scene of the accident. There is no danger of sinking or capsizing at the moment, but salvage operation will be carried out after final inspection. Fortunately, during the accident there were no injured people and no water pollution.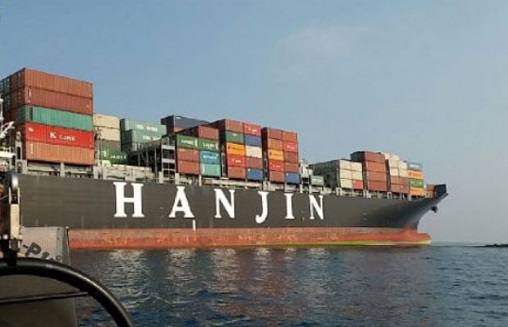 There is no reported casualties or marine pollution and the cause of the accident is currently under investigation. The salvage operation is on way", commented the spokesman of Hanjin Shipping.
The container ship Hanjin Aqua (IMO: 9632480) has overall length of 249.00 m, moulded beam of 38.00 m and maximum draft of 12.00 m. The deadweight of the container carrier is 62,448 DWT, the gross tonnage is 51,032 GRT and maximum cargo capacity is 4,500 TEU. The vessel was built in 2012 by Hyundai Samho Heavy Industries in their shipyard in Samho, South Korea and operated by
Regards,
Avion Management
From: http://www.newsmaritime.com/2015/container-ship-hanjin-aqua-aground-and-damaged-in-sunda-strait/